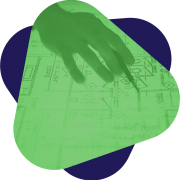 Founded by people with a proven track record of harnessing technology to address neglected social opportunities, and in the process disrupting established practices in industry that have limited returns to both society and business, Psynthax is executing a revolutionary new approach to electronic transaction management based on social interactions. The approach is especially powerful where the stakes are high, trust is critical yet dispersed and poorly articulated, and also where the security of the critical interactions is vital.
Psynthax is showing the way in how to make the fashionable trends of big data and social cloud computing directly meaningful in the lives of professionals , and other individuals in organisations, whether government of commercial, that interfaces regularly with external parties. Our browser-accessible, mobile-driven, large-scale, public-private-partnership, platforms target global opportunities. Our initial core products are known as: Veryfy and Metaveryfy.
The large-scale structure of human society is built on Trust, its presence and absence. Each unit of that meta-structure consists of a 'basic syntax of social meaning', a thing that makes cues, signs, symbols, and representations coherent in a broader way. We may understand that syntax in its simplest form as: "Interactions".
It is true that many of the most meaningful human interactions are fleeting: a hug before a parting, a wink to another on the blindside of an authority figure, the clenched fist that last for a second before the unfurling of a revolutionary mob.But there is a reason why we prefer to preserve some interactions, to give an 'exchange' what one might call: a persistence of meaning. That reason is connected with Trust. Nothing weakens the larger implications of Trust more than the notion of transience.
The mechanisms of Trust require that certain important interactions in social life be organised with 'persistent meaning' in mind. That certainly means secure storage, retrieval, transmission, redaction, annotation, encryption etc. etc. But it also means the 'orchestration of flow'. A significant exchange would most likely be connected with others. It may imply others. It may negate others. It may reinforce others. It may precipitate other exchanges.
This is what the current enthusiasts of cloud, analytics and the so called Big Data revolution have espically failed to encapsulate in the product visions littering the marketplace.